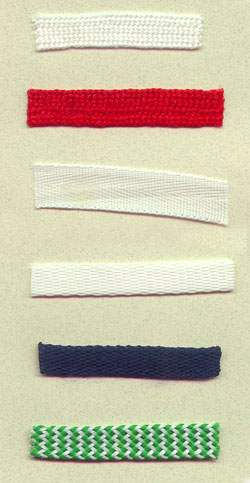 Valley Products Co. offers a wide variety of apron ties. We stock several different lengths, styles, and colors. If we do not have the ties you want in stock, we can make them. We also hot cut and tip to length. Our minimum order for in stock ties is 1,000 PC's; any tie not in stock there is a 5,000 PC minimum. Here you will find just a sampling of what we can do for you. We offer quick delivery, very high quality, and competitive prices. Please call for actual samples or to ask any questions you may have.
Flat Braided Apron Ties
The flat braided apron ties are available in white and colors. Our stock lengths for the white are 30", 32", and 36". Our stock length for colors is 36". We stock in colors, Royal Blue, Scarlet, Black, Forest Green, Kelly Green, Burgundy, Dark Red, Dark Brown, and Navy. We can, however, cut, and or cut and tip to length with a minimum of 5,000 PCs. The minimum for all stock items is 1,000 PCs. We have the highest quality of ties, competitive prices, and quick delivery. Please call us for actual samples of the ties available.

Nylon Tubular Apron Ties
Our nylon tubular ties are the highest quality available. We stock white ties in 30", 32", and 36". Other lengths can be cut for you with a 5,000 PC's minimum. The colored tubular ties are available in any length you would like with 32" and 36" being the most popular. The most popular colors available are: Royal Blue, Scarlet, Black, Kelly Green, Forest Green, Burgundy, Dark Red, Dark Brown, and Navy Blue. We can dye to match, if you need a special. The minimum is about 5,000 yards, or a 100-LB dye lot. Please call us to find out more.