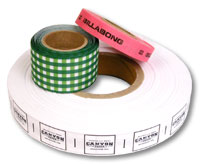 I would like to thank you for your past and present confidence in our products and service. For those of you who have never done business with us I ask that you give us a try.
Since 1938 we have been very appreciative of all our customers both large and small. We have valued the relationships developed over the years with both customers and suppliers and look forward to hearing from all of you.
We are a third generation family owned business located in a small town in central pennsylvania. We have small town roots and values and strive to please our customers constantly.
Our employees are highly skilled and share these same values. This is what I think separates us from many companies in our industry.
We have state of the art printing and cutting equipment and can print on most narrow fabrics both woven and non woven. We have done work for some of the largest and most quality conscious companies in the world.
We also stock what is probably the largest selection of narrow fabrics in the industry including VELCRO® brand products fasteners and hardware.
Again Thank You! We look forward to hearing from you in the future.
I would enjoy talking with any one of you to share your thoughts or concerns about our company. We are always looking for ways to improve.


Sincerely,
Valley Products Co.
Betsy Eyster-Doutrich, Vice President