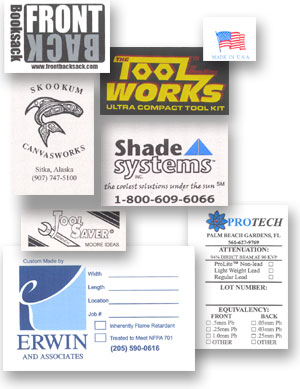 We offer a wide variety of sizes, materials, colors and folding options for our custom printed labels.
Some of the materials we print on
polyester
nylon
flame retardant
satin ribbon
heavy heat seal
flat cotton
cotton or polyester twill tape
polyester material which is designed to be used outdoors
Our ability to print labels which range in size from 1/2" X 1/2" up to 6" X 11" will give you so many options in choosing a size which is right for you. We offer short runs for those who may be getting started or do not need a large quantity, or we can run as many labels as you need. We have label material sample cards available which will show you the wide variety of materials we offer. We would love to quote you on your label needs. Feel free to call us or fax us your requests and we will get back to you with a quote in a timely manner.